Technology Offerings
At The Westin Denver Downtown, we understand the importance of staying connected. Whether you're planning a smaller group presentation or an international broadcast with thousands of attendees, our meeting spaces are equipped with a wide array of technology services with knowledgeable technicians staffed on site to assist with your data, voice and audio visual needs.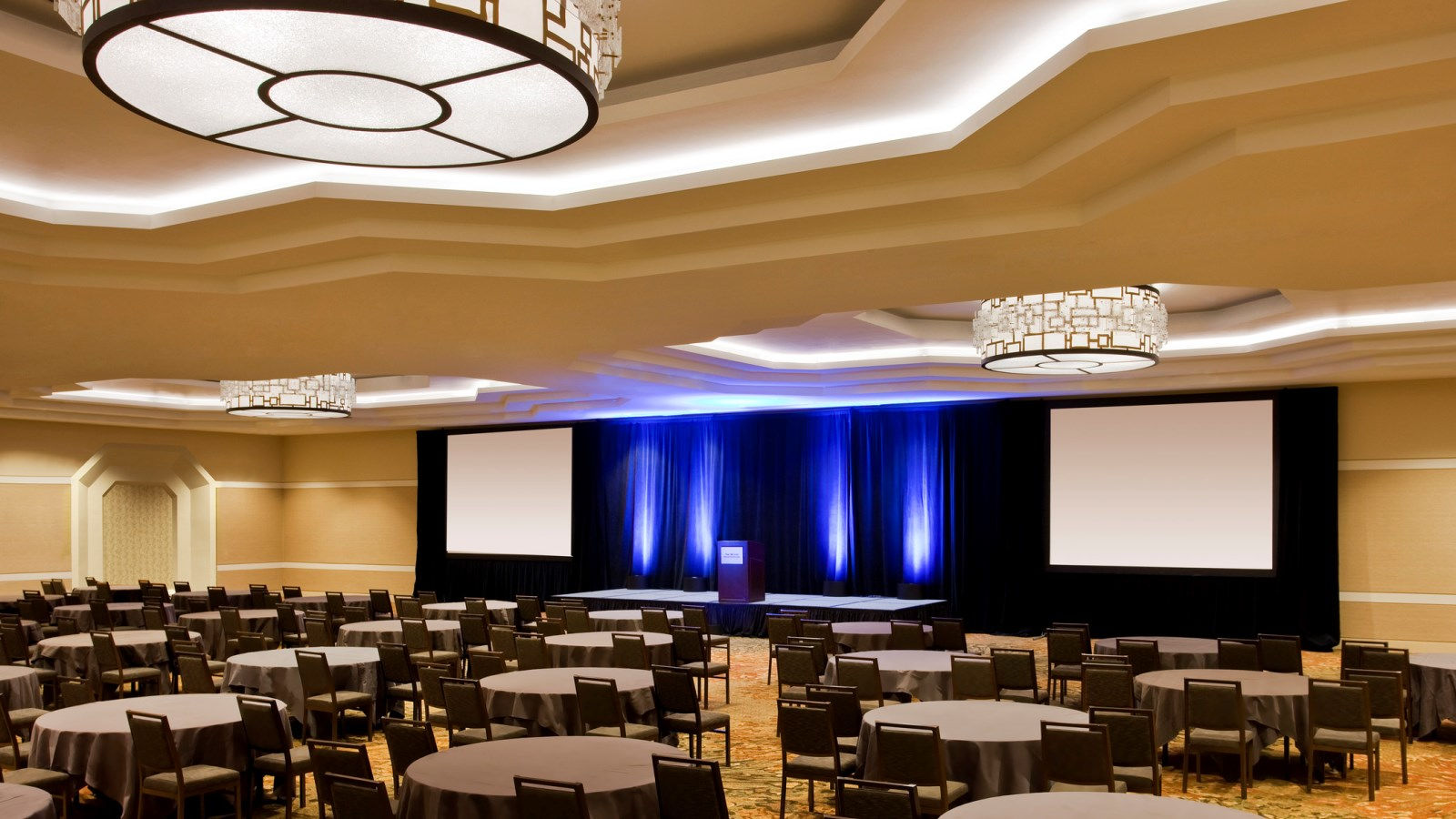 Internet Service Provider Capabilities
Our property is equipped with a 100 megabit/second circuit from our Internet Service Provider through Layer 3 switching technology on site with enough capacity to scale up bandwidth to an additional 900 megabit/seconds through logical provisioning on our trunk back to the Local Exchange Carrier's Metro Optical Ethernet core. For special bandwidth requirements above and beyond, our downtown location provides the option to provision as high as 10 gigabit/sec connections with advanced notice and additional coordination through our Local Exchange Carrier, as well as the addition of switching equipment to the hotel's demarcation point. Individual T1 and ISDN connections can be provisioned at any time for applications such as radio broadcasting and corporate point to point wide area networks.
Meeting Room Network Cabling Infrastructure
All Meeting Room spaces across the entire property can be networked with each other via our extensive multi-mode fiber optic cabling backbone and individual Category 5 copper runs to each room. The Meeting Room network infrastructure has flexibility with additional fiber and copper runs available throughout the entire meeting space should your group wish to bypass the hotel's meeting room network to set up a separate local area network.
Meeting Room Wireless
Wireless Internet access is accomplished through our strategically placed high performance 802.11n wireless arrays, which are specifically engineered for large conference environments where hundreds of wireless users need to connect to the Internet in one concentrated area or throughout the entire meeting space. Each array is outfitted with up to 16 individual access point radios integrated into a high gain directional antenna system providing events with solid wireless coverage, bandwidth and reliability.
Cellular Two-Way Radio Communication
Keeping in touch with our Executive Meeting Specialists, Convention Services and Audio Visual teams is right at your fingertips with our cellular two-way radio devices provided complimentary to groups for convenient communications and a quick response to any needs that may arise throughout the event.
Guest Room Wired and Wireless Internet
Keeping guests in touch, each of our rooms is connected with the option of either wired or wireless internet. Utilizing the latest 802.11n dual radio technology, our guests can enjoy wireless transfer rates up to 5 megabit/second with enough bandwidth for streaming media, Voice over IP and online gaming; all while having the peace of mind that their connection is secure through our use of port to port security. Guests can reach a helpdesk representative 24 hours a day, 7 days a week to assist them with guest room connection related issues.
Audio Visual Services
Our Audio Visual Team's mission is to create a spectacular event and team members are empowered to do whatever it takes to make this happen. We will exceed your expectations in all areas of service and maintain the most exacting standards of professional practice. Audio Visual Offerings include:
Total event consultation including creative design and conception, budgeting and pre-production
3D CAD design and renderings
Turnkey stage and set productions, fabrications, set-up and breakdown
Themed event lighting
Complete concert sound engineering and systems
Multi-camera video productions and recording
Studio-quality audio and recording
High-resolution data display
Image projection and magnification capabilities
Online web streaming and event archiving
Live event direction and supervision
Wireless audience response systems
Professional technical and creative support
A preferred partner of The Westin Denver Downtown, PSAV has been setting the stage for more than 800 locations worldwide, PSAV supplies you with quality equipment and trained professionals – all geared toward achieving your goals – anywhere you hold a meeting or host an event. PSAV offers guests their expertise to accommodate everything from intimate gatherings to large conventions. With their in-depth knowledge and understanding of the venue, along with an integrated approach with our hotel staff, ensure a seamless, worry-free experience. For more information, please contact the Audio Visual Office at (303) 592-1977.